The pharmaceutical supply chain has grown increasingly complex due to medications being manufactured, distributed, stored, and consumed in hundreds of countries – making it easy for counterfeiters to introduce fake medication throughout the supply chain.
This increases the risk for the pharmaceutical industry and global pharma companies, as consumers may consume medications that have no effect, or worse, cause injury or death. The existence of fake medicine in a company's supply chain presents problems in regulatory compliance, consumer protection, brand reputation, and company viability.
Pharmaceutical companies are addressing the counterfeit medicine threat by serializing their boxes and individual packs of medicine. Governments around the world have issued new serialization regulations with varying dates for compliance. (The infographic below discusses serialization in detail.)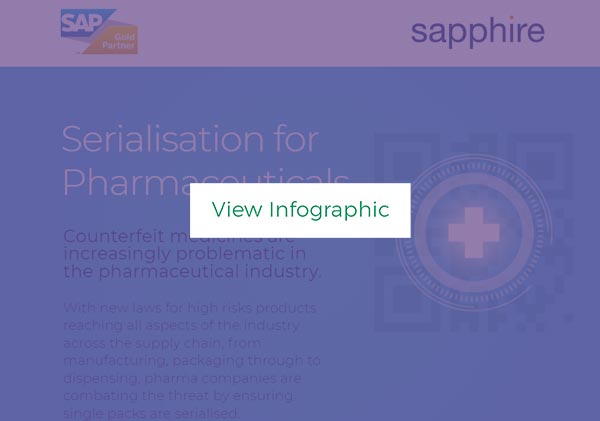 Fortunately, ERP systems like SAP Business One already provide centralized data management and collaboration features to comply with serialization regulations.
How SAP Business One Serializes Pharmaceutical Products and Shares the Data for Regulatory Global Compliance
SAP Business One's serial number management is more precise than batch management. Whereas batches are defined as subsets of material in stock, SAP Business One gives a unique serial number to each item in addition to its material number so individual pieces can be differentiated from one another. This focus on the serial number is standard in:
Inventory management
Production
Quality
Sales
Plant maintenance
SAP Business One allows companies to both automatically and manually assign serial numbers to individual items, packets, boxes, etc., providing the ultimate flexibility in complying with evolving regulations.
By integrating SAP Business One into the global verification databases for serialization, a pharmaceutical company is ready to comply with global regulations and fend off counterfeiters throughout the supply chain.
How Sapphire Can Help
At Sapphire, we have more than just SAP Business One expertise – we support SAP implementations for pharmaceutical companies around the world, leveraging around-the-clock support staff. With our in-depth pharmaceutical industry experience and global footprint, we're ready to help any company streamline their efforts around serialization of medicines for their customers and supply chains around the world. Contact us today to find out more.