Manufacturers and distributors of chemical products must streamline their inventory management to defend profit margins in the face of surging global competition. Streamlining what is exceedingly complex, however, is challenging.
In this post, we outline the inventory management challenges unique to chemical companies and the reason business leaders must address these challenges proactively.
Challenge #1: Product Hazard Labeling for Storage and Shipping
The Hazard Communication Standard (HCS 2012), developed under the Occupational Safety and Health Administration (OSHA), requires chemical manufacturers or importers to classify the hazards of chemicals they produce or import. They must also inform employees about the hazardous chemicals they're exposed to via a hazard communication program, labeling, safety data sheets, and training.
Labeling is the cornerstone of compliance with HCS 2012 and GHS (The United Nations' Globally Harmonized System of Classification and Labeling of Chemicals). The regulations emphasize consistency and comprehension of chemical labels, so labels are standardized and must include these six elements:
Signal word. Indicates a hazard, such as "Warning" or "Danger."
GHS pictograms. Identifies hazardous products and are grouped by chemical risk, health risk, and environmental risk. Below is an example.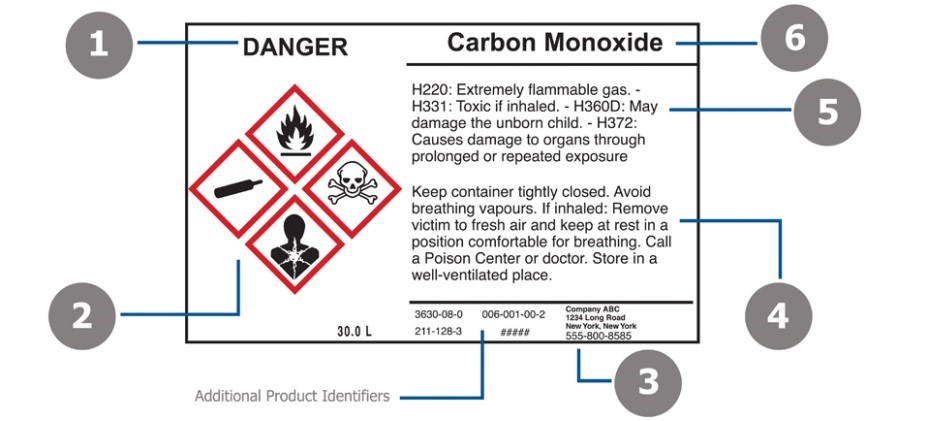 (Image courtesy of Brady Worldwide, Inc. and downloaded from https://www.bradyid.com/en-us/applications/ghs-labeling-requirements)
Manufacturer's information. Identifies the manufacturer's company name, address, and telephone number.
Precautionary statements and first aid. Describes preventive, response, storage, and disposal precautions.
Hazard statements. Describes the nature of hazardous products and the degree of hazard.
Product name or identifier. Identifies the product or chemical name.
In addition to labeling, each chemical company must maintain an updated Safety Data Sheet, or SDS. The SDS must be written or printed and address the hazardous chemical in the GHS standard. It must be immediately available if an audit or accident occurs.
Challenge #2: The FEFO Inventory Methodology
FIFO and LIFO are the most popular methods of inventory management, but with product expiration having potentially fatal consequences in the chemical industry, the first expired, first out (FEFO) method is necessary. (Chemical products include expiration dates in their stock codes, so FEFO is doable.)
No customer wants to receive an almost-out-of-date chemical product – too big of a risk. In the past, customers may not have had a choice of vendors and had to adjust their operations to the supply chain, but today's customers have more vendor choices, and chemical companies risk losing customers (and revenue) when they don't provide products with 'comfortable' expiration dates.
Challenge #3: Recall Management
If a product recall occurs, a chemical company needs to trace every batch of product sold over a multi-year period, which means knowing the names of customers who received specific product batches, their address, date of delivery, and more. To achieve this, a chemical company must have an underlying information system that tracks all recipes and raw material relationships (down to the batch level), stores recipes as product data, and incorporates complete supplier and customer data; this is most efficient with a single system that integrates ERP, SCM, and CRM.
The data from that system must allow the chemical company to perform one-up traceability, wherein it becomes clear where any product is within 24 hours. The system must also account for products still in transit and product that still exists as WIP. Often, one-down traceability is also required so suppliers of faulty materials can be notified as soon as possible to make the entire supply chain safe.
The Ideal Solution for Managing Chemical Inventory
The ideal information system for managing chemical inventory must do more than manage inventory – it must address supply chain visibility to respond rapidly to an emergency and manage a range of items regarding actions, dates, compliance issues, and associated deliverables and "living documents" required by law and regulatory standards.
To understand everything you need to manage your chemical company's inventory, join our upcoming webinar ERP Formula for Succes: Software Demo or contact us today for a free consultation.